Take Action – Right to Work is WRONG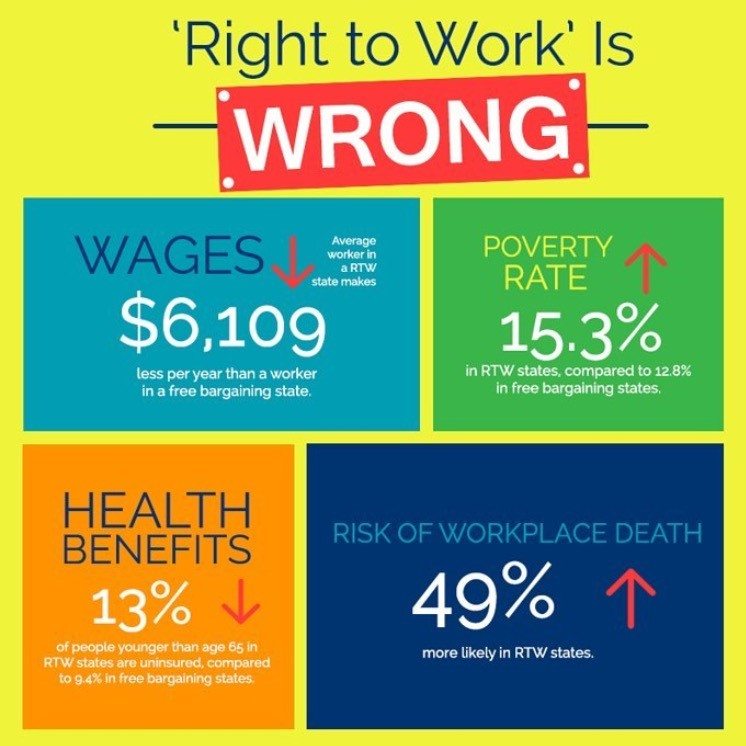 Take Action Today on National Right-to-Work Legislation

On February 1, 2017, U.S. House of Representatives members Steve King (R-IA) and Joe Wilson (R-SC) introduced H.R. 785 , the "National Right-to-Work Act", which would implement a Right-to-Work scheme across the country. The bill applies to all unions covered by the National Labor Relations Act (NLRA) or the Railway Labor Act (RLA). If passed, this law would directly impact Members of TWU Local 556 by eliminating the rights of union members to include union security clauses into Collective Bargaining Agreements.
Background on Right-to-Work Legislation:

Right-to-Work legislation prohibits Union Members from negotiating Union security agreements that require all Members to pay their fair share of the cost of Union Representation and Contract Negotiations. Because of this, Unions in Right-to-Work states typically see a decline in Membership, a reduced treasury, and weaker bargaining power. Also, Workers have a lower quality of life under Right-to-Work laws. Wages are lower, people are less likely to have health insurance, and poverty levels and workplace fatality rates are higher.
What Can You Do? Take Action:

TWU is focusing on grassroots Member action to prevent this law from passing. We encourage you to call your Congressperson and ask them to oppose H.R. 785. Click here to find your Congressperson's contact information.
What should you say?

"Hi, my name is _________ and I'm a member of the Transport Workers Union, Local 556, the Union of Southwest Airlines Flight Attendants. I'm calling today to urge you to take action to OPPOSE H.R. 785, the national Right-to-Work bill. This bill attacks my union rights and will cut my pay and benefits. The quality of life is far worse in states with "Right-to-Work" laws. Poverty levels are higher and people are less likely to have health insurance. Elected officials should focus on creating good jobs, raising wages and making it easier to raise a family."
"Please let me know where Representative __________ stands on H.R. 785."

The staffer will now ask for your name, address and/or email. After you provide this information it's time to end the call.
Report Back
After finishing the call, please email cope@twu556.org and let us know how your Congressperson stands on H.R. 785.
TWU Local 556 COPE, chaired by the Local President Audrey Stone and Co-Chaired by Oakland Domicile Executive Board Member Matt Hettich, has a goal of promoting legislation that advances the interests of TWU Members at the local, state, and national levels. TWU Local 556 COPE seeks to encourage Member activism in the political process through Member participation in TWU State Conferences, through involvement in AFL-CIO State Federations, and local AFL-CIO Central Labor Councils. TWU Local 556 is a member of the labor movement and through our participation we help to influence and shape legislation that advances the interests of TWU Local 556 Members.
What COPE Does:
Promotes legislation that advances the interests of TWU Members.
Educates TWU Members on political issues impacting their lives and the lives of other working people.
Provides TWU Members with an opportunity to support worker friendly candidates who support TWU Members and working families. TWU International has established a Political Action Committee (PAC) that accepts voluntary contributions from TWU Members via payroll deduction.
*If you would like to voluntarily contribute to the TWU PAC, email cope@twu556.org and we would be happy to get you a contribution card. You can see your current COPE contribution level on your 20th paycheck; under deductions listed as COPE.

What COPE Does Not Do:

Tell anybody how to vote.
Force TWU Members to contribute to the International PAC fund.
Use dues money in the form of contributions to endorsed candidates.
Make TWU Members participate in its programs in their local or their community.
In Unity,
Audrey Stone, Chairperson & Matt Hettich, Co-Chairperson
TWU Local 556 Committee on Political Education (COPE)
TWU Local 556 Committee on Political Education (COPE)